Add Clients and Jobs using our agency Recruitment Software
Effortlessly add clients and jobs to your recruitment agency account. Manage your clients and jobs in one place and easily access them at any time.
CREATION
Create and Send stunning Client Proposals with our software for recruitment agencies
Design customized proposals for your potential clients. Effectively negotiate with them about your terms and conditions through our online recruiting system.
Message from

Ruben Evans
Hi Mike, I am Ruben Evans representing these great candidates. Would you be interested to consider them for the Senior Java Developer position?
Terms proposal
Placement fee
of yearly contract value
Send proposal
IMPORT
Import Candidates directly from LinkedIn and grow your candidates' database
Import candidate profiles directly from LinkedIn to our recruitment agency CRM via Chrome Extension. Centralize your talents in one place and build all-in-one recruitment candidate database for your agency.


Enroll
Tanya
under your account
Add talent
By performing this action you confirm that you have Oliver's permission to use their profile information

FIND AND FILTER
Find and Shortlist qualified Candidates
Shortlist candidates that best fit your client's requirements. Use the powerful advanced search functionality in the recruiting agency software to find the perfect match for your job with a click of a button.
Salary expectations (in USD)
PROPOSE
Send Shortlisted candidates to Clients
Share your candidates' profiles straight from your recruitment CRM database. Just choose the shortlisted candidates, submit them to your client in just two clicks, and get feedback from them.
Propose candidates
Senior Java Developer
Amazon
Shortlisted Talents

Thomas Wards
Senior Java Developer

Maria Alexandrova
Junior Front-End Developer

Marina Larson
User Experience Designer

James Arthur
Project Manager
Propose candidates
HIRING PIPELINE
Track your Candidates across the Hiring Pipeline
Our recruitment management system provides a consolidated view of the hiring pipeline. See the status of your opportunities and follow candidates through every phase of the hiring process.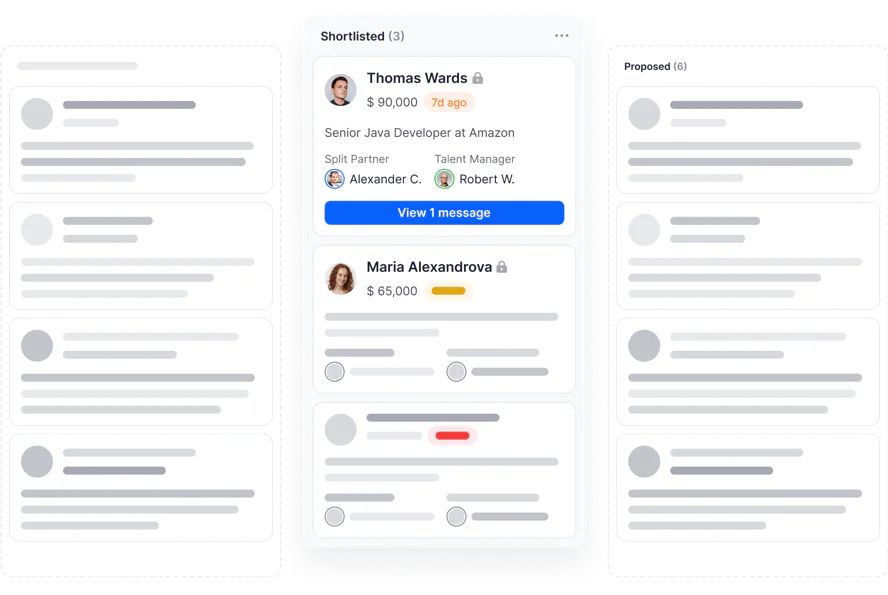 COLLABORATION SUITE
Use Agency Recruitment Software to Communicate with clients and candidates
Collaborate on shortlisted candidates with clients and interact with your candidates faster. See all texts, associated with a given candidate or client in one place.
Today, 07:15
Hi, Mike, are you ready to set up an interview with Thomas Wards?

Hello Ruben! Yes, he is a perfect candidate for this position. I'll choose the date and time for the interview.
What Recruiters Say about our recruitment agency software