#1
See All Your Jobs and candidates for each Specific Client at a glance
Our recruitment management platform provides a consolidated view of the candidate hiring pipeline for the recruitment agency so anyone from your team can view it right from your dashboard.
Keep tabs on all job openings' statuses in one place and clearly understand which candidates are assigned to which clients at a glance.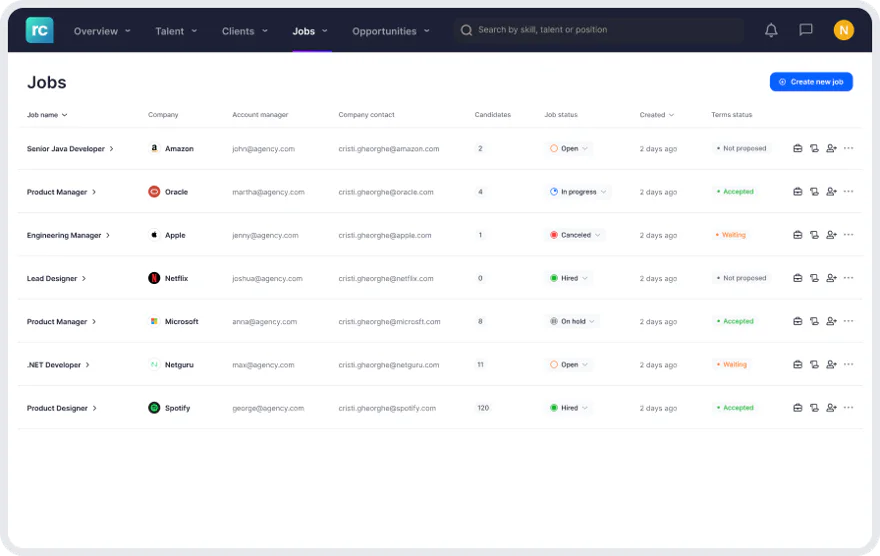 #2
Visualize your recruitment Pipeline from the start
Automatically add your new job opportunities to the Kanban view once you source suitable candidates and send the shortlisted profiles to clients.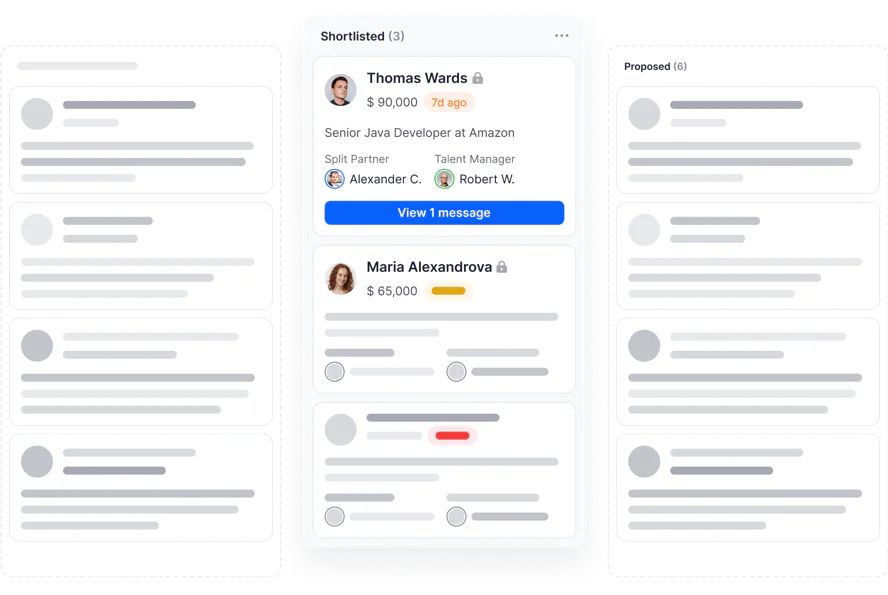 #3
Move Your Opportunities across the hiring pipeline stages with just a Few Clicks and follow candidates, assigned to Specific Clients, through every phase of the hiring process
Your recruitment agency can cooperate with your clients on every stage of their job openings: 
Request & schedule the interview dates for the specific candidates.
Receive the job offers for a chosen candidate & accept the contract signing date.
Mark job opportunities as lost if the company rejects the candidate.
Close the job opportunity once the candidate passes the probation period.
Interview date & time

Thomas Wards
Senior Java Developer | Amazon Inc.
Send offer

Thomas Wards
Senior Java Developer | Amazon Inc.
Amount
(gross yearly compensation)
*
95,000
Details
We are sending you an offer based on the agreement that we made on our interview.
Interview date & time
You are about to mark this contract as signed.
Are you sure that you want to continue?
Contract details
Get started with this Free Recruitment Software
To manage your clients and candidates faster
Get Started for Free