#1
Chrome Extension
Our Chrome Extension helps you to import candidates' profiles directly from LinkedIn to the recruitment CRM software, so you do not have to create them manually.


Enroll
Tanya
under your account
Add talent
By performing this action you confirm that you have Oliver's permission to use their profile information

Once you've added the candidates to the recruiting agency CRM, you or the candidate himself can enrich the profile for the job openings, and make them shine for the clients.

Work Experience
Education
Projects
Technology Stack





Minimum Salary Expectation
Desired Location
Remote (+1 GMT), Open to relocate
Achievements
2nd place in the '04 Modelling Course...
Latest Degree
Aquired BA Web Design degree in 2018
#2
Powerful Search
Search candidates by role, skill, or location in your agency recruitment database. Then filter by using advanced search criteria, like preferred workplace, years of experience, and salary expectations.
Salary expectations (in USD)
Accurately shortlist the right candidates in your recruitment CRM database. Find the perfect match for your job listing in seconds.

I am season Java developer that started my careed doing websites for friends started my careed doing websites for friends ...
Read more

#3
Hiring Pipeline
Get the consolidated view of the hiring pipeline so you stay on top of things. See all your jobs and updated candidate stages at a glance in our web-based recruitment system.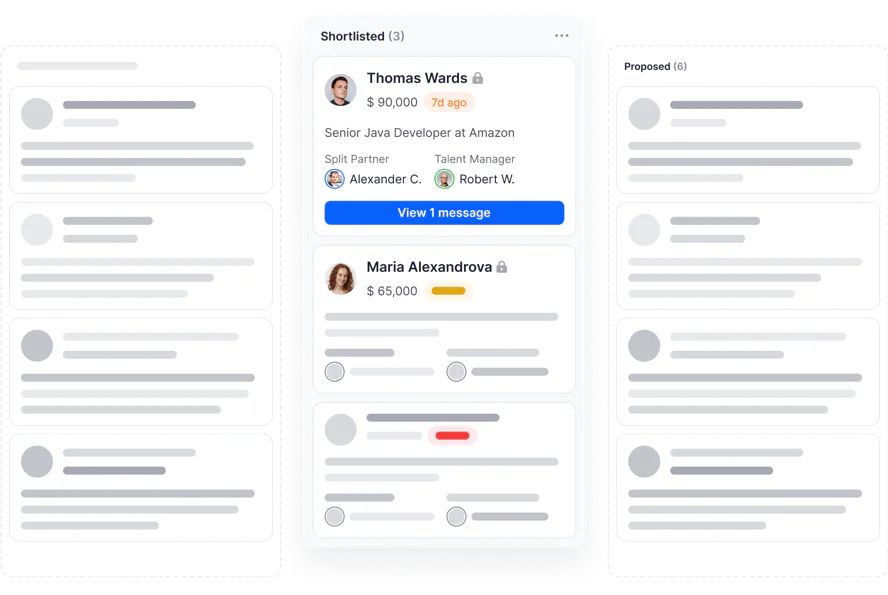 Use our recruiting management system to keep track of candidates moving through the stages of the hiring process and understand what you need to complete next.
Opportunity
Propose Talent
Remove Talent

Senior Java Developer | Amazon Inc.
Like what you see? Explore more recruiting agency software features.
Get Started for Free