Why Recruiting CRM is the best Recruit CRM Alternative for recruiting agencies
#1
Completely Free
No setup fee or monthly fee. Sign-up and start using our recruitment management system from day one.
#2
Instant Access to the network of other recruiters
Search for the right candidates across the other recruiters' databases. Effectively collaborate with other recruiters on our platform.
#3
Easy-to-use and intuitive Interface
Set up your recruitment system in 2 minutes. The user interface is intuitive and includes a kanban style view that visually organizes all the candidates in your hiring pipeline.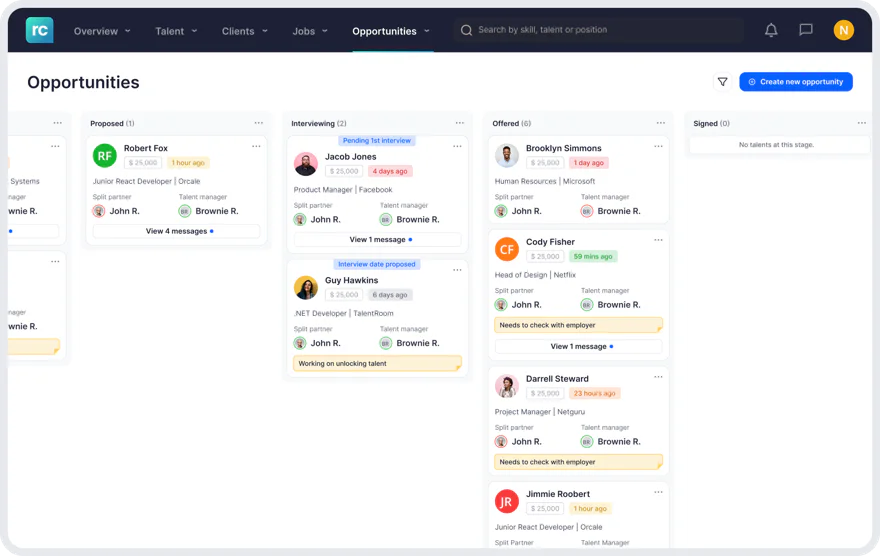 #4
Free Chrome Extension
Scan LinkedIn profiles and import candidates directly from LinkedIn with one click. Our Chrome extension is completely free for any number of candidates.


Enroll
Tanya
under your account
Add talent
By performing this action you confirm that you have Oliver's permission to use their profile information

What is RecruitCRM?
Recruit CRM is a cloud-based recruitment software that helps small to midsize firms manage recruitment operations, daily activities, candidates, clients, contacts, and more. The platform enables recruiters to view & track applicant information, job vacancies, hiring status, and notifications.
Recruit CRM Pricing
The product has three pricing editions, from €50 to €79 per user/month. A free trial is also available. You can compare different pricing editions on the company's website and choose the one that fits your requirements.
Recruitment software Comparison
Finding the right recruitment software for agencies is not easy. Here's how our software compares with Recruit CRM and solves this challenge.
50 – 79 EUR per user/month
* not available in free trial
Recruit CRM Pros and Cons
Pros
Applicant tracking system
Advanced search
Recruiter performance reports
Cons
Chrome extension is not available on the free trial
Does not offer access to the network of other recruiters
Searching for Recruit CRM alternatives, choose the software that allows you to easily manage clients, candidates, and jobs in the one intuitive interface. The other important issue is the Chrome extension to import candidates' profiles into the recruitment CRM. In addition, the price matters, as small recruiting agencies and independent recruiters need a product they can easily use from day one.
Recruiting CRM is the Best Recruit CRM alternative.
Get Started for Free