#1
Import Candidate Profile directly from LinkedIn
Follow these three easy steps to add candidates' profiles directly from LinkedIn to the CRM recruiting software in seconds:
Go to a LinkedIn user's profile
Open the Recruiting CRM Chrome extension
Click Add candidate to start importing


Enroll
Tanya
under your account
Add talent
By performing this action you confirm that you have Oliver's permission to use their profile information

#2
Enrich Candidate's Profiles as a recruiter
Once you've imported the candidates with the Chrome extension for recruiters, you can enhance their profiles to make them more attractive to clients in your recruitment CRM software.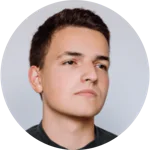 Flutter Developer
Experience 5 years
Skill level 9.5 / 10
#3
Ask Candidates to enrich their own profiles
Get the most accurate and comprehensive information on your candidates in your recruiting CRM software.
Help candidates to make their profiles shine. Ask them to add details about personal job preferences, and highlight their skills and salary expectations.

Work Experience
Education
Projects
Technology Stack





Minimum Salary Expectation
Desired Location
Remote (+1 GMT), Open to relocate
Achievements
2nd place in the '04 Modelling Course...
Latest Degree
Aquired BA Web Design degree in 2018
Get started with this Free Recruitment Software
To manage your clients and candidates faster
Get Started for Free