Why Recruiting CRM is the best Recruiterflow Alternative for recruiting agencies
#1
Completely Free
No setup or monthly fee. Just sign-up and get all the features you need to recruit the best talent using our recruitment management system.
#2
Instant Access to the network of other recruiters
Build a powerful recruitment network on our platform and collaborate seamlessly with other recruiters. Use the databases of other recruitment agencies to search for the right candidates.
#3
User-friendly Interface
Manage the hiring process from end to end in easy-to-use and intuitive recruiting software for agencies. See all your jobs and updated candidate stages at a glance in our recruitment management system.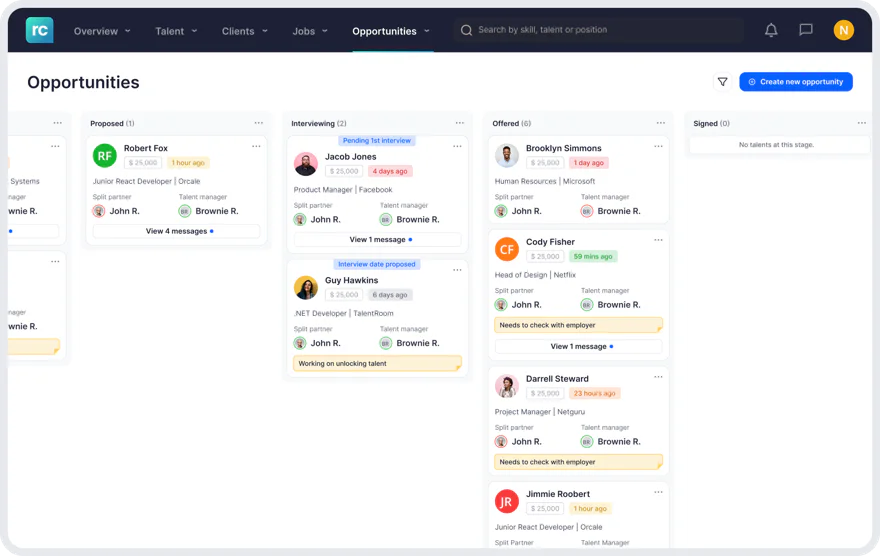 #4
Advanced search with Smart Filters
Search candidates by role, skill or location in your agency recruitment database. Then filter by using advanced search criteria, like preferred workplace, years of experience, and salary expectations.
Salary expectations (in USD)
What is Recruiterflow?
Recruiterflow is the applicant tracking software for recruiting & staffing agencies.
The platform's key differentiator is the applicant tracking system that streamlines all workflows to help customers quickly find the perfect candidate.
Recruiterflow Pricing
The product has three pricing editions, from €99 to €129 per user/month. A free trial is also available for 14 days. You can compare different pricing editions on the company's website and choose the one that fits your requirements.

Recruiterflow vs Recruiting CRM
Get a head-to-head comparison of features to learn how we dwarf the competition.
Features:


* not available in free trial
Recruiterflow Pros and Cons
Pros
Applicant tracking system
Task management
Pipeline & activity reporting
Saved search
Cons
Clunky interface
Does not offer access to the network of other recruiters
High cost for small recruiting agencies
Searching for Recruiterflow alternatives, choose the software that allows you to easily manage clients, candidates, and jobs in the one intuitive interface. The other important issue is the Chrome extension to import candidates' profiles into the recruitment CRM. In addition, the price matters, as small recruiting agencies and independent recruiters need a product they can easily use from day one.
Recruiting CRM is the Best Recruiterflow alternative.
Get Started for Free