#1
Discover RecruitingCRM's time-saving Recruitment Calendar
Our recruitment calendar software is an indispensable tool for managing your hiring pipeline calendar. It is designed to offer enhanced visibility and control over your recruitment process, aiding recruiters and recruitment leads to organize their day, track vital events, and ensure that every opportunity is noticed.
Organized Recruitment
As an efficient recruiter's daily planner, it helps you manage your day effectively with a clear view of scheduled interviews, contract signings, trial dates, and more.
No More Missed Opportunities
With all your hiring events in one place, our recruitment event planner ensures nothing slips from your pipeline. Stay on top of every task and never miss an important event again.
Contract Monitoring
Our hiring pipeline calendar also serves as a recruitment contract management tool. Keep track of contract expiration dates and make sure you take payments on time. Never miss a contract expiry date again.
Process Compliance
Recruitment agency owners and managers can monitor the daily activities of recruiters, ensuring adherence to the recruitment process. Our recruitment task organizer promotes consistent and efficient operations throughout your recruitment agency.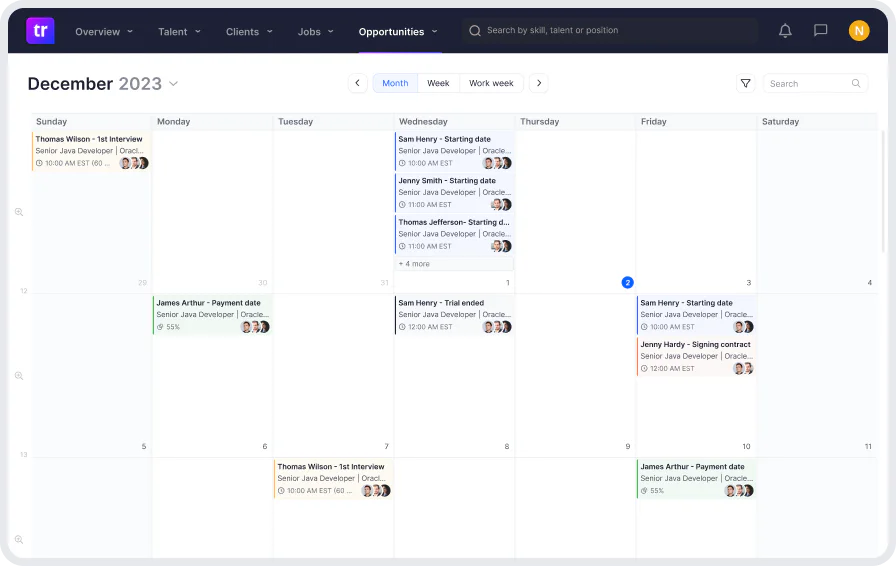 #2
Stay Ahead of your recruitment process timeline with our Diverse Event Types
Interview
Schedule and manage interviews efficiently with our recruiting CRM with a calendar.
Contract Signing
Our job contract reminder tool helps you document contract signing dates and stay informed about upcoming onboarding events.
Starting Date
Keep track of your new hires' starting dates, ensuring smooth transitions.
Trial Date
Monitor the trial period end dates for your new hires, enabling prompt decision-making.
Payment Date
Schedule and track payment due dates, promoting timely and accurate financial management..
Thomas Wilson - 1st Interview
Senior Java Developer | Oracle Inc.



Jenny Hardy - Signing contract
Senior Java Developer | Oracle Inc.

Sam Henry - Starting date
Senior Java Developer | Oracle Inc.



James Arthur - Payment date

Sam Henry - Trial ended



#3
Adapt to your workflow with our Flexible calendar Viewing Options
Monthly View
Gain a broad perspective on your recruitment events for the month, perfect for long-term recruitment schedule management.
Weekly View
Focus on the tasks and events of the week for detailed, short-term planning and better zooming in on the current day.
With our recruitment calendar software, tracking hiring events has never been easier. You'll stay ahead of the recruitment process timeline, keeping track of every step of the recruitment process, and ensuring a seamless and efficient operation.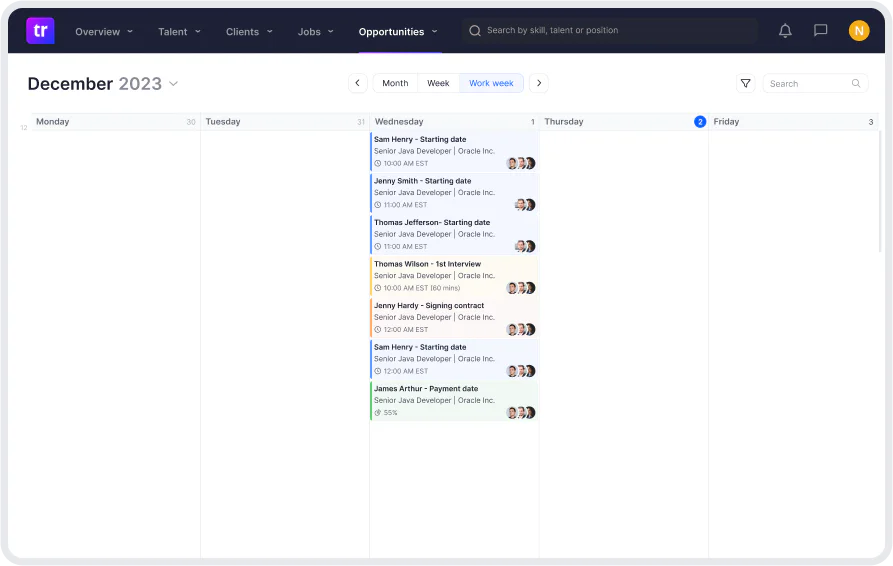 Get started with this Free Recruitment Software
To manage your clients and candidates faster
Get Started for Free