#1
Add or Import candidates
Easily enroll each candidate in our candidate management software for recruiters. You can add candidates manually or import their profiles directly from LinkedIn via Chrome Extension.


Enroll
Tanya
under your account
Add talent
By performing this action you confirm that you have Oliver's permission to use their profile information

#2
Enrich candidates' profiles
Follow several easy steps to capture all relevant information about the candidate in our candidate management system for recruitment. Start with the enrichment of the candidate's profile as a recruiter.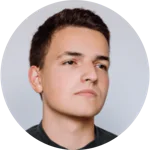 Flutter Developer
Experience 5 years
Skill level 9.5 / 10
Ask your candidates to review and enrich their own profiles. This way you can stand out with the most professional and beautiful CVs in your recruitment portfolio.

Work Experience
Education
Projects
Technology Stack





Minimum Salary Expectation
Desired Location
Remote (+1 GMT), Open to relocate
Achievements
2nd place in the '04 Modelling Course...
Latest Degree
Aquired BA Web Design degree in 2018
#3
Shortlist the right candidates
Search & shortlist candidates that best fit your client's requirements in our candidate management database for recruiters.

I am season Java developer that started my careed doing websites for friends started my careed doing websites for friends ...
Read more

Get started with this Free Recruitment Software
To manage your clients and candidates faster
Get Started for Free